PEST CONTROL SOFTWARE
With its seamless integration with QuickBooks, its compatibility with handheld (pocket) computers and smartphones such as iPhones and Android devices, and its many functional features, The Service Program is the optimal software solution for your pest control business. Especially when it's also one of the most affordable solutions on the market.
Following are some of the pest control and maintenance tasks that The Service Program can help you record, track and manage and report to your residential and commercial customers, if appropriate:
Track Chemicals used onsite including reg numbers, labels, etc.
Track REI, application rate, dilution rate and more
Outdoor, perimeter and indoor treatments
Record Wind Speed and Wind Direction and temperature (if applicable)
Record Target Pest
Track any traps set. Create a task to retrieve them in the future.
Record whether or not the customer has paid or not
Track Types of Service (yearly, quarterly, monthly, emergency)
All this information can be printed on a work ticket and/or entered on a PDA
PDA's can even signature capture and print in the field!
Additional Information
Enter Customers once in The Service Program or in QuickBooks and it seamlessly will update the other program.
When a customer calls you can open a work ticket in The Service Program then it will seamlessly go to a PDA. Once closed it posts as an invoice in QuickBooks where you can print it out.
Continue to receive payments in QuickBooks and do your other normal accounting functions. The Service Program does all the other little tasks that QuickBooks doesn't do.
Generate analysis: target pests, types of calls, performance by route, etc
Schedule when services need to be performed on any frequency
Keep track of services performed per visit
Record time of day and weather conditions
Track when parts are used off a truck with inventory
Track assets assigned to crews
Maintain route schedules for crews
Track route profitability
Track issues from the main warehouse to each crew member (chemicals, traps, etc.)
Create routes for various sprays, seasonal routes, etc.
Service Call Scheduling
Past Due/Recurring Work Orders
PDA's
Watch Video
Watch Video
We now support 2-Way Google Calendar integration!
Watch Video
Routing
Route Tickets
Route Mapping
Watch Video
Watch Video
Watch Video
Inventory
Customer Detail
Monthly Billing
Watch Video
Watch Video
Watch Video
Service Contracts
Ticket Analysis

Watch Video
Watch Video
Below are some Screen Shots of our iPhone and Android Version
View open work orders, create new ones and complete existing ones
Create an Invoice, view customer info, etc
View your Route Schedule. Create a route ticket when you get to a location. Enter chems used.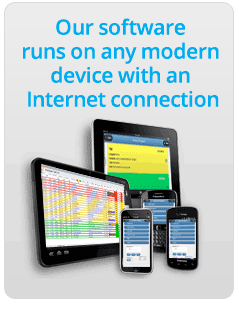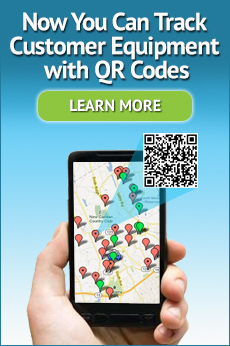 Did you Know?

By using PDA's your route techs will be able to enter information in the PDA and print while in the field? Additionally, when the tech syncs his/her PDA you can email the results to the customer!