MEDICAL WASTE AND DISPOSAL SOFTWARE
The Service Program - The Leading QuickBooks Add-On for the medical waste, collection and disposal Software. Track Routes, containers, print manifests, use iPhones and Android devices, and synchronize seamlessly with QuickBooks! The Service Program is the perfect QuickBooks add-on to help your business. With its seamless integration with QuickBooks, its compatibility with handheld (pocket) computers such as iPhones and Androids, and its many functional features, The Service Program is the optimal software solution for your mobile service business. Especially when it's also one of the most affordable solutions on the market.
Following are some of the maintenance tasks that The Service Program can help you record, track and manage and report to your residential and commercial customers, if appropriate:
Document what services are performed each visit
Print / email manifests in the field
Track sharps collected and handle destruction documents
Customer can exist on multiple routes on multiple days
Keep track of equipment checks, maintenance and repairs
Create routes
Analyze route profitability
Create checklists to accompany routes or work tickets or both
print custom mailing lists based on subdivision, who has what equipment
Managers can view entire route schedule from their PDA to be able to check on routes as they are in the field
Seamlessly email customer and/or property manager after a stop
Email a customer and/or property manager after work has been performed at a location.
DO DOUBLE-ENTRY since we seamlessly tie to your QuickBooks
Create monthly recurring billing for flat rate service, or by visit and more
Customer portal for your customers to reprint / view manifests
Click on the Report on the right. This Route Tech Analysis Report is an example of how The Service Program can provide company your company with information quickly and easily so that you can make informed business decisions now. This report shows you:
Below are some videos on how The Service Program can help you.
Scheduling
Past Due/Recurring Work Orders
PDA's
Watch Video
Watch Video
We now support 2-Way Google Calendar integration!
Watch Video
Sample Manifest
Customer Detail
Route Mapping
Watch Video
Watch Video
QuickBooks
Service Contracts
Watch Video
Below are some Screen Shots of our Medical Waste Collection iPhone and Android Version

Create, View and Complete Work Orders
Create Invoices, View Customer Info, sync remotely
Run a route, create route tickets, record what was done at a stop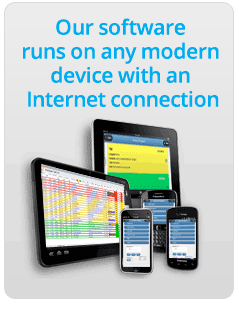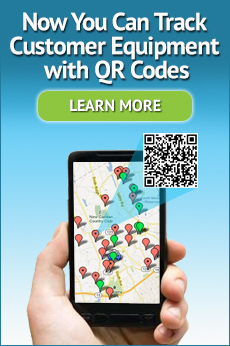 The Service Program is a QuickBooks add-on that can help you manage contacts, track leads, schedule appointments, plan routes, generate estimates, manage equipment rentals, track materials and equipment, produce invoices in the field, manage multiple inventory locations, create reports and fulfill service contracts. The Service Program also works with handheld personal digital assistants (PDAs), so it's mobile, just like your business.


Premier iPhone, iPad and Android Employee GPS Tracking Solution NOW AVAILABLE!
CLICK HERE